Dr. Sherrod Willaford
Principal
229-732-2790

Dr. Sherrod D. Willaford, a native of Atlanta, Georgia, is a transformational leader with over 18 years of service to public education. From classroom teacher to school administrator, he has served in a variety of school environments (urban, suburban, and rural) and at every level of K-12 schooling (elementary, middle, high, and central administration). Dr. Willaford earned his Bachelor of Arts degree in Middle Grades Education from Clark Atlanta University and then earned a Master's degree from the State University of West Georgia in Administration and Supervision. He received his Educational Doctorate degree in School Improvement from the University of West Georgia. Additionally, Dr. Willaford has received professional certifications from both Virginia Tech and Howard University Schools of Education.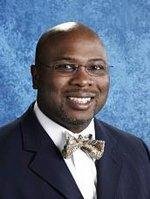 Dr. Willaford is a change agent – an esteemed, data-driven, visionary, and collaborative school leader committed to teaching and learning with a focus on sustainable results. Most recently, while serving as interim high school principal, the school was named as an Advanced Placement Honor School for student test results on STEM AP tests, Humanities, and Access & Support for African-American and Hispanic students. As Executive Director of Schools, leading schools assigned to the Office of School Turnaround and Improvement, for two consecutive years his schools experienced double digit gains on state assessments and accreditation status for the district's lowest performing schools positively increased. Likewise, during his tenure as an elementary turnaround principal, despite challenges faced by a growing economically disadvantaged enrollment, student achievement significantly improved. Furthermore, under his leadership, this school was named an American Association of School Counselors (ASCA) model school, was recognized by the National Youth At- Risk Conference as a High Flying School, and was heralded for achieving the superintendent's "highest aspirations" and "defying the norm" awards. Moreover, the school met adequate yearly progress (AYP) each year and was deemed a Title I Distinguished school for several consecutive years.


Dr. Willaford has a proven track record as a well-trained school improvement specialist and nationally certified principal mentor for new and aspiring school leaders. As a continuous lead learner, he participates as a member of numerous professional organizations, including the Association of American School Administrators (AASA), Phi Delta Kappa International (PDK), the National Association of Elementary School Principals (NAESP), the Association for Supervision and Curriculum Development (ASCD), and Alpha Phi Alpha Fraternity, Inc. In 2012, he was recognized by Phi Delta Kappa International as an "Emerging Leader"- an honor bestowed upon top educators under the age of 40 for their leadership and commitment to public education. In addition to his K-12 work, Dr. Willaford has also served as a leadership coach for Columbia University Teachers College in their Summer Principal's Academy and as a professorial lecturer for The George Washington University.


In his spare time, Dr. Willaford enjoys attending sporting events, movies, and listening to music.


Follow Dr. Willaford on twitter

@DrWillaford

#RCMSonTheRise